Why be a DREAM FOR DESTINATION Holiday Expert?
WITH SUCESS OF MORE THAN 100+ HOLIDAY EXPERT AT DREAM FOR DESTINATION
Our Expert Channel provide an opportunity to work from Home who have Potential ,skill and desired to succeed. These women's are Multitaskers who Leverage this opportunity to Gain Financial Independence, recognition for their business and Personal Growth
we established our Holiday channel in 2015.Today This Channel Boast 100+ Womens who are working From Home and Making Holiday Dreams of Our Customer True
Given that it is a flexi-work opportunity, there is no mandatory minimum hours on work required.
However, we have observed an average of 5-6 hours per day are critical in catering to customer requirements and building the business.
Step 1: We call you and have a conversation with you to help you understand the role and answer any doubts you have. If we both agree to the requirements, then we proceed to next round.
Step 2: The discussion is followed by an interaction with a subject matter expert who evaluates you on subject matter, attitude and also aptitude.
Step 3: Once you are shortlisted, we share a mail with you along with details of your training which happens at our super happening office.
Step 4: Your On-boarding process will cover training on processes, customer management skills, and product knowledge, for helping get you started.
Step 5: You will then be aligned to trainers who would be your friend, mentor and guide in this exciting journey.
The Holiday Expert model operates on a completely variable pay-out system. The amount of monthly pay-out depends on factors such as bookings done for holiday packages, the total value of these bookings, customer -focussed parameters and adherence to processes. Apart from this, we regularly run incentive campaigns, gift voucher offers, vacation offers, travel incentives to name a few to enhance the overall benefits for you.
BENIFIT OF WORKING
A PLACE YOU CALL YOUR OWN
EAT LUNCH ANY TIME AND HANGUP WITH YOUR FAMILY
COMFOY CLOTHE YOU CAN WEAR
Your Career Playbook as a Holiday Expert @DREAM FOR DESTINATION HOLIDAYS
At REAM FOR DESTINATION(DFD) HOLIDAYS, we understand how important it is to know what's the next logical step of your career and we're chalking it out for you.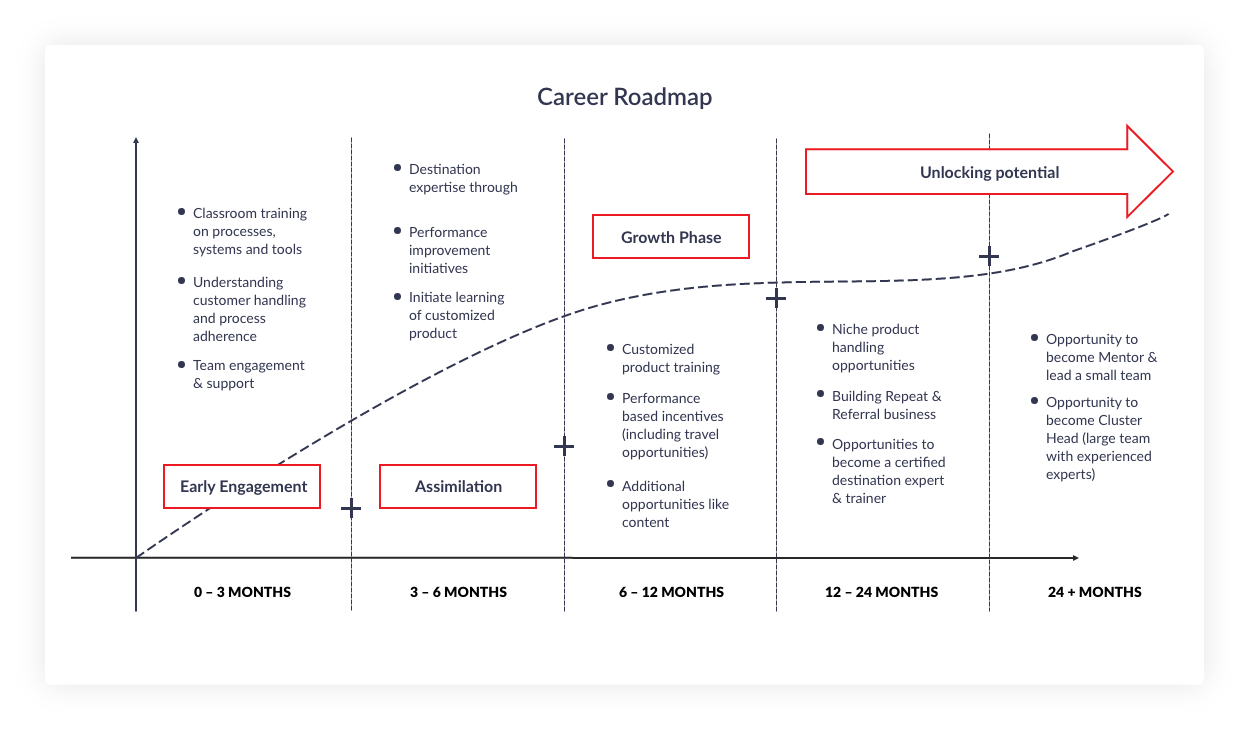 Hover Box Element
Join us to be a part of India's leading Travel company, DREAM FOR DESTINATION.
APPLY NOW :info@dreamfordestination.com
The DREAM FOR DESTINATION Promise
With an amazing team of more than 100 Holiday Experts across the country, Dreamfordestination has evolved successfully as India's leading travel company. Support, recognition, target driven incentives and a lot more, Dreamfordestination is surely the best place to work at!
Regular Training And Skill Development
Subject Matter Expertise Development
Team Leaders For Support
Growth-Based Incentives
Continuous Engagement With The Holiday Expert Network
If you are interested to work with us as a Holiday Expert, please share your resume on
   info@dreamfordestination.com